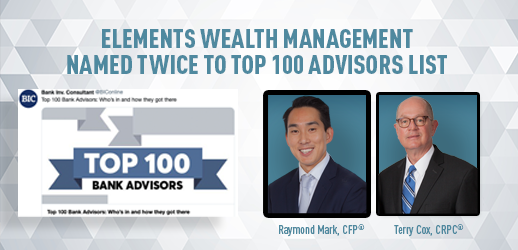 Bank Investment Consultant announced their annual list of Top 100 Bank Advisors, and Elements Wealth Management placed twice on the list.
Elements Wealth Management Financial Advisors Raymond Mark, CFP® and Terry Cox, CRPC®, both were listed among the top 100, coming in at number 83 and 35 respectively. This marks the first time either advisor has made the Top 100 list.
BIC uses a combination of six factors when putting together the list. Included were assets under management, production, percentage change in both assets under management and production, amount of fee business from the most recent production figures, and the ratio of production per asset under management.
A graduate of Purdue University, Mark joined Elements Wealth Management in 2009. Mark was added to BIC's Honorable Mention list of "Top 50 Financial Advisors" in 2012 and currently resides in Fishers, Indiana.
Cox has been in the industry since 1993 and came to Elements Wealth Management in 2005. He is a graduate of Indiana State University and a longtime resident of Hendricks County, Indiana.
To see BIC's announcement of how the advisors made the list, click here.
Elements Wealth Management is a full-service investment management and financial planning firm with $700 million in assets under management. For more information, visit elementswealth.org.