Longtime LPL Financial Advisor Bruce Evans of Elements Wealth Management has taken his multigenerational approach to financial planning and applied it to his own family tree.
With more than 25 years of industry experience, Bruce spends his days working with his clients on retirement planning, saving for college, and building plans for their individual financial future. Bruce's son, Jack, grew up observing his dad's intense level of responsibility for taking care of his clients. "Because of my father's commitment to his clients, I saw the impact that an advisor can have on people's day-to-day life," Jack shared. After seven years of service in the United States Navy, Jack decided to follow in his father's footsteps in 2019.
After quickly passing and obtaining all required licenses, Jack joined the Elements Wealth Management team as an Associate LPL Financial Advisor and now works closely alongside his father. Taking the wisdom of experience while embracing the trends of the future has set this family on the road to continued success. Bruce and Jack Evans believe that planning for your next generation is important, too. Explore their expert tips for investing based on where you are in life and contact them with any questions. Our initial consultations are always complimentary!
Because of my father's commitment to his clients, I saw the impact that an advisor can have on people's day-to-day life.
GENERATIONAL INVESTING
No matter your age, there are ways for you to invest in your future.
Investing in Your 20s & 30s
Workplace 401(k): Aim to contribute 10% or more of your salary and ensure you are receiving your employer's full match.
Mostly Stock Funds: If you are somewhat risk-tolerant, consider investing about 70-85% of your portfolio in stocks, with the remaining money in bonds and cash investments.
Investing in Your 40s
Workplace 401(k): Kickstart your savings and prepare for retirement by continuing to increase your contribution and carefully monitor your progress.
Asset Allocation: Asset allocation during your 40s should often lean slightly more toward lower-risk bonds and fixed investments.
Investing in Your 50s
Consider the Breakdown: 60% stock investments and 40% bonds is a strong mix for most investors.
Additional Income Streams: Consider options for creating income streams from your investments by adjusting some of your investments into higher dividend-paying stock and bond funds.
Learn more from Jack Evans during his previously live broadcast of Elements Live. He covers the impact time has on investing. Click here to watch the seminar on Facebook.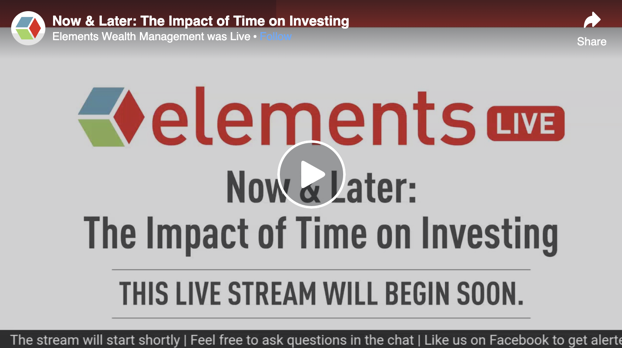 Please note that individual situations can vary and therefore this information should only be relied upon when coordinated with individual professional advice.