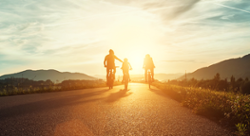 Summertime brings more than sunburns and barbecues — it can also send your monthly expenses through the roof. But with a bit of work now, you can enjoy the hot season and avoid pinching pennies in the fall.
"Ideally, one saves a little bit of money in each of the cooler months and then spends down those funds in the summer," says Michael Schupak, founder of Schupak Financial Advisors in West New York, New Jersey. But, if you've failed to plan your budget far ahead, all is not lost.
Saving on Travel
Plan vacations wisely, paying for as much as possible in advance. Lodging, transportation, and entertainment in many cases are less expensive when booked ahead. And getting started early means there will be less scrambling for money later.
If you're down to the wire and don't have enough money for a big trip, visit family who'll put you up or plan a staycation this year. Crashing on a relative's couch or being a tourist in your town may not be a dream vacation, but it is still a break and can give you a head start on saving for next year's trip.
Saving While at Home
On the home front, find out if your utility company offers a flat-rate plan. This can spread power, heating, and cooling costs across 12 equal monthly payments, eliminating spikes on your bill caused by more people, like school-age children, being at home during the day in summer.
Older children home for the summer may spend their days raiding the fridge. Couponing is one way to save on groceries, but seeing a measurable payoff can take a lot of effort. Instead, encourage your kids to cook and limit convenience foods — those that are easy to eat mindlessly — on your shopping list.
If you are looking for supervised activities for younger children, an overnight summer camp, or full-time daycare; generally the most expensive choices, aren't the only options. If you didn't budget for these big-ticket items, look for local day camps, which are often run by religious or community organizations and parks departments and are a fraction of the cost of childcare.
For next year, Schupak recommends estimating how much expenses climb in the summer and setting aside — through automation, if possible — a portion of each paycheck for a summer fund.
Other Tips for Cutting Summer Costs
Opt for free or cheap weekend activities
Cut out streaming subscriptions
Encourage older children to get a summer job for their own spending money
© Copyright 2016 NerdWallet, Inc. All Rights Reserved
This information is provided for informational purposes only. It does not constitute legal, tax or financial advice. Consult with your tax, legal or financial adviser before taking any action.