A podcast for your financial life.
START LISTENING TODAY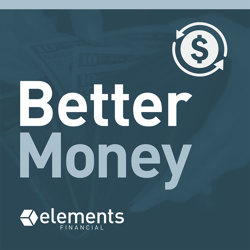 Welcome to Better Money with Elements Financial, a podcast where we deliver trusted advice from financial wellness pros to help you make your money — and your life in general — better.
Whether you're a member with us yet or not, welcome to our friendly financial podcast that broadcasts from Indianapolis, Indiana, where the headquarters for our credit union is located. 
Weekly episodes cover a variety of topics with conversation and special guests:
Finding holistic approaches to your finances
Giving yourself some leeway when it comes to your financial plan
Realistic goal setting
Making sacrifices and learning to balance life with finances
The life of an auto loan application
and more...
SUBSCRIBE TO BETTER MONEY
Listen to Better Money with Elements Financial on Spotify or Apple Podcasts.