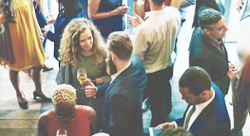 The core difference between the average job-seeker and the networking job-seeker is that the former applies for several jobs by sending resumes and applications to faceless and anonymous emails. The latter however, recognizes that email inboxes and screening software applications do not give jobs. Therefore, they look for real people to approach. This is not as easy as it sounds. Here are some do's and don'ts to assist you in networking while you're still in college.
Do make it a point to remember (and address) people by their names
A name is the most fundamental identity of any individual. By remembering names, you ensure that you establish a bond with the people you meet. They will remember your name because you remembered theirs. Networking is about synergies. What better way to start than by remembering the names of the people you meet?
Do cultivate relationships with your college seniors and alumni
If you approach college alumni for suitable employment opportunities at the outset, they will be wary of you. Therefore, utilize your days in college and approach them for advice rather than for a job. Pick their brains about what works in the industry you wish to enter. As senior or former students, they will help you with advice and other tips. This leaves the doors open for you to enquire about jobs as you approach the end of your days in college.
Do harness the power of social media
In a recent study conducted by Interview Success Formula, 80% of job openings are not advertised, and never even enter the public domain. Companies generally fill up any vacancies in this order of priority: internal candidates, employee Referrals and, People who approached them via informational meetings or via networking channels. Therefore, do not stop at job hunting on various job boards. Instead, create profiles on LinkedIn, Facebook and Twitter among others. LinkedIn is a renowned professional social network. Facebook offers value in a more informal way. Twitter can help connect you to people you rate highly in the industry of your choice. Each network could bring you into the eyes of millions of people.
Do consider getting an internship
An internship might not make you wealthy, but it will help you gain industry experience and make valuable connections. Additionally, it will give you real-time exposure to the corporate world. Companies rate experience highly in any job interview. Thus, you have better chances of securing the job than someone who only has a diploma. Moreover, companies prefer hiring people they know. Thus, if a job opportunity arises, they will first consider the candidates they know, before looking outside.
Do harness the contacts you currently have
Do not underestimate the contacts you already have (i.e. your parents, your friends' parents etc.) The older generation is vastly experienced. Thus, they are sure to have a diverse and lengthy list of contacts. Tap into this network by talking to them about your interests, skills and the kind of work you are looking for. You might not get a job directly from them, yet they will be able to spread the word around when an opportunity presents itself.

Don't be overcome by shyness or the fear of rejection
Feeling shy is natural, but you can still network. Introverts are usually interested in people—genuinely. That can be your biggest asset. All you need to do is to stop waiting for people to approach you. Approach them instead and start a conversation. Make people feel important by listening to them. People enjoy having someone listening to them. Networking is about listening more than speaking. Introverts have this ability naturally. All you need to do is to put it to good use. As for rejection, this is a natural fear to have. After all, you will not find everyone receptive to your initiative. Neither will every person want to connect. However, the number of people who will connect will usually outnumber those who do not. Take things in your stride and forge ahead confidently.
Don't expect results quickly
Networking is not a one-time activity. It is an ongoing process. By persevering, you will reap the results by the time you leave college, if not earlier.
Don't focus solely on your own needs
Networking is about collaborating with others. That also means looking out for them just as much as you would like them to look out for you. As the old proverb says, "Help someone else's boat reach the shore and you will find that your own boat will also reach the shore." Someday, just as you might find a suitable opportunity for someone, someone else could find something worthwhile for you too.
Don't lose touch with people until you need them again
Ensure that you keep the relationship alive. Establish the relationship. Then, e-mail them some articles or information that might interest them. Drop in a note too telling them that you thought the article might be helpful to them.
In sum...
In an interview with Fast Company , co-founder of LinkedIn, Reid Hoffman said, "One of the challenges in networking is everybody thinks it's making cold calls to strangers. Actually, it's the people who already have strong trust relationships with you - who know you're dedicated, smart and a team player, who can help you. What makes the meaning of life is people, so you try to be good to people immediately around you and in your broader community. Your network is the people who want to help you, and you want to help them, and that's really powerful." Therefore, do not just work on sending job applications; spend some time on building your network. The people in your network will not only assist you at various stages in your career, but some of them could even be your friends for a lifetime.
---

iGrad has partnered with Elements Financial to bring their financial capability services to our members. iGrad is 100% focused on empowering folks to make effective personal finance, student loan and career decisions throughout life. Learn more at igrad.com
This information is provided for informational purposes only. It does not constitute legal, tax or financial advice. Consult with your tax, legal or financial adviser before taking any action.