Elements Financial was pleased to award two major grants of $15,000 each over the past week—one to Cancer Support Community and the other to School on Wheels. Elements partnered with the Central Indiana Community Foundation to distribute these corporate contributions through the Angel Investors Grant Program.
Cancer Support Community (CSC) provides support programs to cancer patients and their families through five key components: psychosocial support, education, wellness, social connectedness, and information/assistance/referral. Psychosocial support programs have proven to help cancer patients and their families deal with distress, loss of control, hopelessness, and social isolation to help equip them to complete their treatment. All CSC programs are provided free of charge to participants and include individual counseling, support groups for patients, caregivers, and/or children, yoga, cooking classes, education, and more. Programs at Eskenazi Health provide psychosocial and wellness programming for cancer patients and family members of a socio-economic class not often afforded the opportunity to participate in this type of complementary programming, which has been a focus for CSC over the past two years. The expansion is expected to increase CSC's service to minority and/or low-income individuals in Marion County by at least 25%. The new award from Elements Financial will be used to support staffing and programming costs.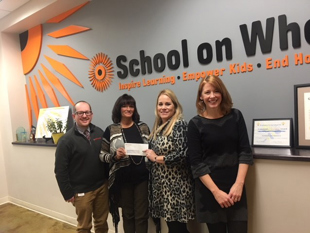 School on Wheels (SOW) provides one-on-one tutoring and educational advocacy programs for school-aged children impacted by homelessness.  In the last year, School on Wheels has developed a Hidden Homeless Initiative to reach children living in transition outside the shelter system, expanded from 11 partner sites to 13, increased tutoring hours per school year from 5,885 to more than 7,700, and has increased children and parents impacted through our programs 11% to more than 570 each year. The youth served by SOW attend 78 area schools and are housed at nine shelter locations. These partner shelters include Coburn Place Safe Haven, Dayspring Center, Family Promise of Greater Indianapolis, The Julian Center, Project Home Indy, Salvation Army Barton Center, Salvation Army Ruth Lilly Women and Children's Center, Wellspring Cottage and Wheeler Mission Center for Women and Children. Grant support from Elements will help offset the increase in costs for SOW's expanded programming while allowing SOW staff to cultivate new donors and volunteers.
Strong community support is an essential aspect of doing business the Elements way. Last year alone, Elements awarded more than $600,000 in grants, employee contributions, and sponsorships in the Central Indiana region, which has been home to Elements since its founding in 1930. Other preferred charitable partners include Riley Children's Foundation; Outreach, Inc.; Little Red Door Cancer Agency; and Wheeler Mission.
Any non-profit organization seeking support for health and wellness initiatives, programs for at-risk youth, and/or financial wellness education is welcome to contact the Central Indiana Community Foundation to learn more about grants from Elements Financial.