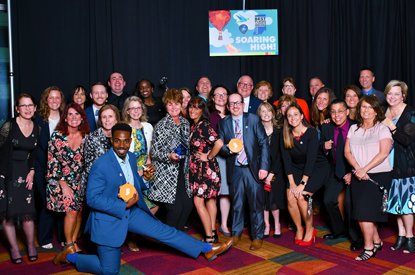 May 3, 2019 (INDIANAPOLIS) - The Indiana Chamber of Commerce honored 125 companies from across the state this week at the 2019 Best Places to Work in Indiana celebration dinner. Rankings for the organizations were announced in four categories.
Joining companies throughout the state and across a range of industries, Elements Financial landed among the honorees. The top companies in the state were determined through employer reports and comprehensive employee surveys.
With 177 employees, Elements has ranked #11 out of 37 organizations in the Medium Companies category, ranging between 75-249 US employees. The honored companies range in Hoosier employee counts from 15 to more than 1,700.
Hall of Fame companies are those that have been named a Best Place to Work in Indiana at least 60% of the time in the program's 14-year history. Elements is one of only 3 organizations on the 2019 Medium Companies list to meet that criteria.
"We believe in our embraceRED Culture driven by our Elements of Success, which are core values shared by the entire company," said Lisa Schlehuber, CEO of Elements, "Our purpose-driven work environment coupled with a valuable compensation and benefits package creates employee engagement.  There's a true sense of pride in what we do here daily – building lifelong relationships to impact our credit union members' financial success."
Indiana Chamber of Commerce President Kevin Brinegar states: "We hear repeatedly from Hoosier employers that having a talented workforce is the most critical issue they face. The 125 companies honored on the Best Places list have made their people the top priority through policies and practices that emphasize attracting, retaining and developing this most valuable resource."
The rankings for the companies were unveiled at an April 30 awards dinner at the Indiana Convention Center in Downtown Indianapolis. A team of nearly 30 Elements representatives from across the organization attended the event to receive and celebrate their award. This event is traditionally one of the Elements employees' favorites and requires an internal lottery to determine who will go.
(Photo courtesy of Banayote Photo Inc.)
More About Elements Financial
Elements Financial is a diversified federal credit union with assets of more than $1.5 billion and 100,000+ members in all 50 states and 50 foreign countries. As a financial wellness provider, Elements serves individuals through our original sponsor Eli Lilly and Company and more than 135 companies across Indiana and nationally. Beyond six Elements branches in Central Indiana, we provide access to more than 5,000 shared branch locations nationally and 78,000 surcharge-free ATMs globally. Elements Wealth Management is a full-service investment management and financial planning firm with more than $700 million in assets under management. Elements is known for higher deposit rates, lower loan rates, and fewer fees. Join us at elements.org to learn more. Federally Insured by the NCUA 
For more information on the Best Places to Work program, go to bestplacestoworkindiana.com.