INDIANAPOLIS – The Indianapolis Indians and Elements Financial today launched an Indians Signature Rewards Visa® Credit Card. For each new qualifying card, the two organizations have partnered to donate $100 to the Riley Children's Foundation Riley Relief Fund, helping Riley families affected by the COVID-19 outbreak. Members who meet the qualifications will also receive a cash bonus and many exclusive perks at Victory Field.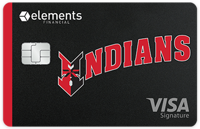 "We are delighted that this new Indians-branded rewards Visa® card will benefit the Riley Relief Fund during a time when Riley families need community support more than ever," said Indianapolis Indians President and General Manager Randy Lewandowski. "Indianapolis Indians Charities has sought many opportunities to help the community since its establishment last year, and thanks to our partnership with Elements Financial, we together can make an impact on Riley families."

In addition to the $100 donation to Riley Relief Fund for each new card member, Indians Signature Visa® card members receive the following benefits, plus more:
 $200 cash bonus just by using the card
$4 discount on the purchase of Indians tickets
Entered for an exclusive opportunity to throw a first pitch at an Indians game
Free popcorn and soda at every Indians Wednesday day game
$10 off any purchase of $50 or more in the Hot Corner Gift Shop at Victory Field
"Two of our strongest community partners are the Indianapolis Indians and Riley Children's Foundation. We're honored to be working with both organizations to support the Riley Relief Fund that provides resources to Riley families with the greatest current needs. This is a wonderful way Elements Financial can support the community through the launch of our new Indians Signature Visa® Credit Card," said Ron Senci, Executive Vice President of Elements Financial.
The Riley Relief Fund provides emergency assistance to Riley families during the COVID-19 pandemic. It also supports Riley program and team member needs, and gives doctors, nurses and other healthcare professionals flexibility as they respond to the evolving healthcare crisis.
"Riley has always been a harbor in the storm, helping families through some of the most difficult days of their lives. We are so thankful to our loyal partners at the Indianapolis Indians and Elements Financial, and our entire community, for stepping up to support this urgent cause," said Elizabeth Elkas, president and CEO, Riley Children's Foundation.
To learn more about the partnership between Elements Financial and the Indianapolis Indians, visit elements.org/Indains. 
About Elements Financial
Elements Financial is a diversified federal credit union with assets of more than $1.6 billion and 100,000+ members in all 50 states and 50 foreign countries. As a financial wellness provider, Elements serves individuals through our original sponsor Eli Lilly and Company and nearly 150 companies across Indiana and nationally. Beyond six Elements branches in Central Indiana, we provide access to more than 5,000 shared branch locations nationally and 78,000 surcharge-free ATMs globally. Elements Wealth Management is a full-service investment management and financial planning firm with more than $750 million in assets under management. Elements is known for higher deposit rates, lower loan rates, and fewer fees. Join us at elements.org to learn more. Federally Insured by the NCUA
About the Indianapolis Indians
The Indianapolis Indians are the professional Triple-A baseball club affiliate of the Pittsburgh Pirates. In continuous operation since 1902, the organization believes in creating affordable and memorable experiences for fans so they can grow closer together with family, friends and the community through the game of baseball. The Indians play their home games at Victory Field, a 13,750-seat ballpark located in downtown Indianapolis and White River State Park. The venue opened in 1996 and has received numerous national accolades as one of the best minor league ballparks in the United States. The team has led Minor League Baseball in combined total attendance over the past 10 seasons. In 2018, the organization was recognized as Ballpark Digest Team of the Year. It was also named a 2019 Best Places to Work by the Indiana Chamber of Commerce.
About Indianapolis Indians Charities Indianapolis
Indians Charities is a tax-exempt 501(c)(3) nonprofit organization that was established by the Indianapolis Indians in August 2019. The nonprofit is dedicated to helping youth and families grow stronger together, learn more and live healthier lives by supporting organizations in four key areas: youth development, family success, education and neighborhood development. IIC's vision of enriching the lives of individuals in Indianapolis and its surrounding communities is made possible through generous contributions from partners and the general public.
About Riley Children's Foundation
Riley Children's Foundation is the fundraising arm of Riley Hospital for Children at Indiana University Health and the founding organization that opened Riley Hospital in 1924. Today, Riley Hospital is recognized as one of the best children's hospitals in the nation and is the only comprehensive children's hospital in the state of Indiana. Riley Children's Foundation also funds Camp Riley, the James Whitcomb Riley Museum Home and the Billie Lou Wood Visitor Center. For more information, visit RileyKids.org and follow us on Facebook, Instagram and Twitter @RileyKids.