Home Equity is the current market value of your home less what you owe on your mortgage. It's easiest to think of equity as the amount of your home that you actually own. This value is created by paying down the principal balance of your mortgage and accounting for any increases in market value since you took out your loan.
What are some of the benefits of using your home's equity? These loans or lines of credit typically feature low interest rates and give you the potential for tax deductions. They are a great way to consolidate your debts or establish an emergency savings fund.
Contrary to popular belief, there are many ways you can use your home's equity. While Home Equity Loans or Lines of Credit are often used for things like home improvements, they can also be used for:
Tuition
Vacation
Travel
New Car
Second Home
Medical Bills
Debt Consolidation
Unexpected Emergencies
Access to Equity
There are various ways to access the equity in your home. These include:
Cash-Out Mortgage Refinance
This refinance replaces your first mortgage with a new one. The new mortgage is for a larger amount than the first mortgage, and the borrower gets the difference between the two loans in cash.
Benefits to a Cash-Out Mortgage Refinance include having only one mortgage payment, multiple loan options, and possibly tax-deductible interest. However, it's important to remember that with this type of loan, you must borrow the entire amount upfront even if you don't need it right away. Additionally, closing costs tend to be higher than other options and there is the potential to extend your loan term.
Home Equity Loan
This type of loan is often used as a second mortgage. The loan amount is determined by the value of the property and typically provides a shorter term than a traditional 30-year mortgage. This type of loan offers a fixed interest rate, low closing costs, and fast approval.
A Home Equity Loan can be simpler than other options since your payment each month is a consistent amount. Plus, this loan gives you the option to receive a one-time lump sum payout. It's important to consider that closing costs may be higher than a line of credit and your monthly payments are comprised of principal and interest, often leading to a higher payment than a line of credit.
Home Equity Line of Credit
This flexible, variable rate option allows you to request the maximum amount of your available equity. You only borrow what you need, when you need it. HELOCs have a low interest rate, low closing costs, and often offer promotional rates. You'll have the ability to make interest-only payments and the flexibility of using your money only when and if you need it. This is a great option if you are happy with your rate on your first mortgage. You should consider that HELOCs give you a second mortgage to manage and paying only interest will not reduce the amount owed.
You can use your HELOC funds for whatever you want, and the interest only payment lets you pay back principal based on your own personal financial goals.
Finding the Best Fit
Before making a decision on which option is best for you, ask yourself:
Are you looking to pay off debt?
How are you planning for college expenses?
Are you prepared for a major life event?
Do you plan to purchase a new home or upgrade your current one?
Watch: Using Equity to Your Advantage
Watch a previous Elements Live that covers all the ways you can use equity and put your home's value to work. Our experts discuss the process of determining the value of your home's equity, products from the credit union that can help, and more.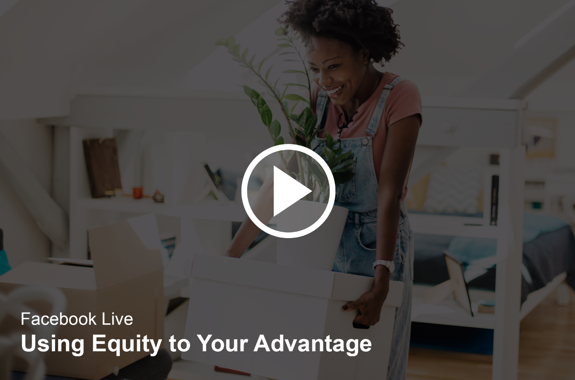 Our Mortgage Loan Originators at Elements can help you determine which loan option is best to meet your needs. Have questions or need trusted advice? Our credit union experts are always here for you.  Contact Elements Financial for support in all aspects of your financial life. 
This information is provided for informational purposes only. It does not constitute legal, tax or financial advice. Consult with your tax, legal or financial adviser before taking any action.