At Elements, we value the trust you place in us to be your credit union partner for life. We make every effort to raise awareness of scams and fraud that can put you, your family, and friends at risk.
Recently, fraud by account takeovers has significantly increased across the financial services industry. Typically, this fraud occurs when consumers receive a text message, email or phone call from a fraudster posing as their bank or credit union. Oftentimes, the fraudsters will send a message asking the user to "confirm" fraud on their account. This can lead to the consumer calling and surrendering personal or account information. Sometimes, the fraudsters will additionally use clues from public social media posts or check-ins to make their claims sound even more legitimate.  
Elements Will Never Call You Asking For This Information:
Online Banking Passwords or User IDs

Member Number

Online Banking Secure Access Code 

or One-Time Passcode

Full 16 digits of your Debit or Credit 

Card number

*

Social Security Number

*

Personal Identification Number (PIN) 

for your Debit or Credit cards

*
*We may ask you to verify the last four digits of these numbers. If you initiate a call to Elements, we may need this information to verify your identity.
3 Essential Steps To Prevent Fraud:
DO NOT TRUST CALLER ID ALONE
Fraudsters can spoof phone numbers including the customer service lines for Elements, 1-800-621-2105 and 1-317-276-2105, to make it look like we're calling you. If you receive what feels like a questionable call with our caller ID, hang up and call us back directly. You can always call us 24/7.
FREEZE YOUR CREDIT
A credit freeze keeps private data in your credit files from being accessed without your approval. Freezing your credit can help prevent fraudulent credit applications, even if a fraudster has information like your birthdate and Social Security number. You can easily unfreeze credit temporarily when you wish to apply for new credit. This is the most proactive defense against fraudsters. Here are useful links to freeze your credit with the major credit bureaus:
MANAGE YOUR DEBIT CARD WITH CARD CONTROL
Control your debit card with Card Control. You can create custom real-time alerts for your debit card transactions and even restrict your card if it is lost or stolen. Download the Card Control app within our Elements mobile app by selecting Card Control from the app menu or by visiting the Apple or Google Play store directly if you already have the Elements mobile banking app.
Learn more about combating fraud from a previously live broadcast of Elements Live. Click here to watch the seminar.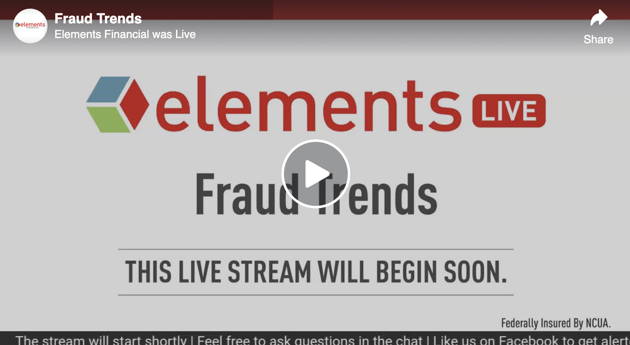 This information is provided for informational purposes only. It does not constitute legal, tax or financial advice. Consult with your tax, legal or financial adviser before taking any action.