If you have poor credit, the good news is you are not alone. Approximately 40% of Americans under the age of 40 have what is considered a poor credit score.
What most people don't realize is that credit mistakes can be fixed with only a small amount of time and effort. You can even start this process on your own today. In this article, you will find Element's expert advice on repairing your credit so that you can achieve financial freedom.
Review Your Credit
While you may know your credit score number, it's also important to know what is driving your score.
Visit annualcreditreport.com to view your credit report
You can review your FICO score through Elements mobile and online banking
Schedule a complimentary credit review with a financial wellness expert from Elements
There are various factors that make up your credit score. The chart below shows the criteria used by the FICO score generator and each factor's importance to your credit score. Knowing this will allow you to better understand what factors are poorly affecting your score.
It could be that your length of credit history is short, so you just have to be patient while your score builds over time. Or maybe you have been maxing out your credit card each month and never realized that credit capacity affects your score. Whatever your situation is, there are opportunities to improve each of the 5 factors that make up your credit score.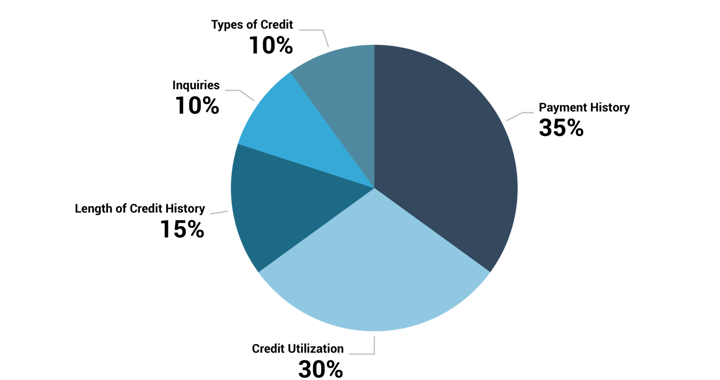 Rebuild Your Credit
Use these key steps to kickstart the rebuilding process.
Pay Your Bills on Time
It takes 24 on-time payments to get one late payment removed from your report.
Pay all your bills on time, every month
If you have any past-due accounts, bring them current and make on-time payments going forward
Consider setting up automatic payments or payment reminders to help ensure you are never late with a payment
Use a Small Portion of Your Credit Limits
Pay down credit card balances
Keep credit lines open
Utilize 30% or less of your overall credit limit
Consider a Secured Account
You can use these products to help improve your credit:
Credit Builder Loans: Once you are approved, funds are held in your savings account. You receive the loan amount 'savings' once loan is paid in full.
Secured Credit Cards: You are responsible for funding the limit. You're able to use this just like a normal credit card and build your history with on-time monthly payments.
Be Careful with New Credit
Opening new credit card accounts, or even just applying for them, can affect your credit score.
Only consider opening new cards or raising your credit limit if you have the self-discipline to control your spending.
Increasing the amount of credit you have available could improve your credit utilization ratio
Too many hard inquiries in a short amount of time can negatively affect your score
Pay Down Your Debt
Our experts recommend these 3 strategies to pay down debt. While all can be useful for reducing your debt, some methods make more sense for certain people and situations.
Debt Snowball: Focus first on your debt with the smallest balance
Debt Avalanche: Focus first on your debt with the highest interest rate
Debt Consolidation: Refinance your debt to a loan with a simple lower interest rate
Have questions or need trusted advice? Our credit union experts are always here for you. Contact Elements Financial for support in all aspects of your financial life.
Learn more about your credit from a previously live broadcast of Elements Live. Click here to watch the seminar.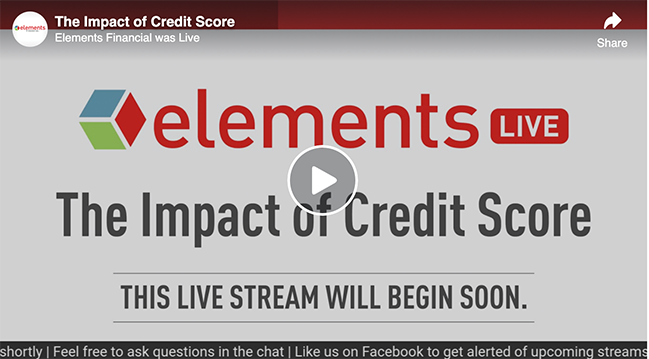 This information is provided for informational purposes only. It does not constitute legal, tax or financial advice. Consult with your tax, legal or financial adviser before taking any action.