Your credit score is one of the most important numbers in your life.
You can think of it as the grade you receive for how responsible you have been with managing your loans and other financial obligations over time. Your credit score is important because it affects your ability to borrow money and the cost of doing so. A top credit score will get you the best rates, the highest credit limits, and the overall greatest deals.
THE FIVE FACTORS
Your credit score is made up of five factors that tell lenders what the risk of lending to you is. These include payment history, credit utilization, length of history, inquiries, and types of credit. Explore this section to understand how each factor can play an important role in your score.
Payment History | 35%
The first thing a lender will want to know is if you have made your credit payments on time. This is the most important factor of your credit score. Credit cards, retail accounts (department store credit cards), installment loans (such as auto loans, personal loans and student loans), finance accounts, and mortgages are all considered. Your payment is considered late 30 days past the due date.
Credit Utilization | 30%
The amount of credit you use compared to your total limit allows lenders to understand how heavily you rely on your lines of credit. It is important to keep your credit card balances low. If you overextend, financial institutions may perceive you as a risky borrower.
Length of History | 15%
Those who have longer credit histories and limit their requests for new credit typically will have higher scores because they pose less risk to lenders. You should keep lines of credit open, regardless if you use them or not.
Inquiries | 10%
When you apply for new credit such as loans, credit cards, homeowners insurance, or new utilities, a hard inquiry is pulled. Too many hard inquiries in a short time period can negatively impact your score. However, multiple inquiries within a 45 day period when shopping for a vehicle, student loans, or a mortgage only count as one inquiry. There is no penalty for checking your report through an organization authorized to provide credit reports, such as Elements, or online at annualcreditreport.com.
Types of Credit | 10%
The mix of credit cards and installment loans that you have is important. Lenders like to see a history of on-time payments across each type of accounts to prove you can effectively manage your finances. 
CREDIT'S BIGGEST MYTH
It's hard to improve your credit score if you don't know what it is. Many people believe the myth simply that checking your credit score will make it decrease. This is far from the truth, as Soft Inquiries - like checking your score - have no impact. However, Hard Inquiries - like applying for a credit card can make it decrease slightly. The good news? It typically bounces right back after a couple of months.
HIGH TECH. HUMAN TOUCH.
High Tech: Access Your Credit Score Online
Want to review where your credit score stands? If you have an Elements checking account, credit card or loan, you can view your credit score for free within online and mobile banking. Elements updates your credit score monthly. Remember that viewing your score here will not impact it, so visit online or mobile banking as often as you want.
Human Touch: Review Your Report with a Credit Expert
Let the credit experts from Elements help you understand the information on your credit report, look for ways to increase your overall credit score, and help identify ways to use credit to improve your financial life. This is a soft inquiry and will not impact your score. Contact your Branch or Relationship Manager to schedule an appointment for a 30-minute one-on-one discussion.
Now that you understand your score, explore ways to improve it. 
1) Bring any past due accounts current.
2) Once all accounts are current, consider opening a Credit Builder Loan and/or a Secured Credit Card, designed to boost your score.
3) Talk with a financial expert from Elements to create a custom plan for your situation.
1) Use less than 30% of your available credit card/line of credit limits. Pay down accounts or ask for a limit increase, if needed.
2) Diversify your types of credit lines by having at least one installment loan, such as an auto loan or mortgage, and revolving credit, such as a line of credit or credit card.
3) Be patient. Establishing a high credit score takes time.
1) Don't open multiple credit cards in a short period of time.
2) Use less than 10% of your available credit card/line of credit limits.
3) Continue monitoring your score and credit report regularly through your Elements online and mobile banking platforms. If there is an unexpected change, contact the credit bureau or lender to file a dispute.
Learn more about your credit from a previously live broadcast of Elements Live. Click here to watch the seminar.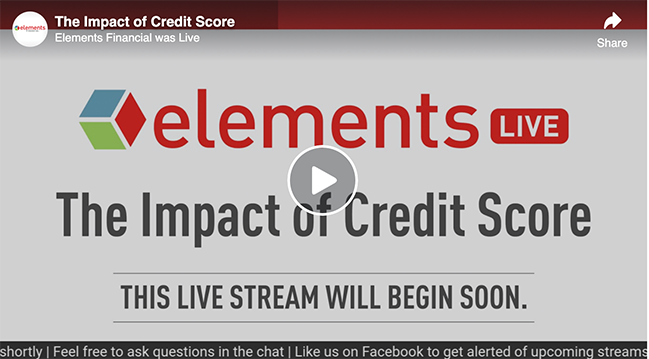 This information is provided for informational purposes only. It does not constitute legal, tax or financial advice. Consult with your tax, legal or financial adviser before taking any action.