Shopping for a new car can be an overwhelming and intimidating task. With the price of a new car averaging $35,000, choosing a new vehicle is certainly a significant financial decision. You might find yourself feeling unprepared walking into a dealership, unaware of financing options, and possibly unhappy if you experience buyer's remorse. Unfortunately, cars do not live as long as people do, so more than once in your life you will go through this process. At Elements, we are here to alleviate that stress and confusion and eliminate those negative feelings.
There is so much to learn about the auto buying experience and knowing your finance options ahead of time will build your confidence. Keep in mind that, unlike most purchases, a vehicle is not something you can return with a receipt. In most cases, all sales are final. Because vehicles are large ticket items, we want to provide the best resources to help you make the most informed buying decision.
ASSESS YOUR NEEDS
Before you buy, it's critical to assess your needs, do your research, and determine your budget.
In determining your needs, ask yourself:
How will I use this vehicle?
Do I put a lot of miles on a vehicle?
How long do I plan to own this vehicle?
Do I drive children/elderly parents/other loved ones around?
Business trips or business clients in your car?
Can I afford this?
DETERMINE YOUR BUDGET
So, how much can you afford? Many financial advisors suggest that your total auto expenses should not exceed 15% of your net pay. This includes all auto-related expenses such as loan payment, insurance, gas, license plates, and maintenance (tires, oil changes, etc.). Make sure you have accounted for all these things before you commit. Lastly, know your credit score ahead of time. The better your score, the better your interest rate. If you need to work on increasing your score, wait to purchase until you have your score higher in order to qualify for a better rate.
PURCHASING OPTIONS
The following sums up the three options for purchasing as well as the key advantages and considerations for each choice:
New Vehicle 
This is a good option if...
You want a car with the newest technology and safety features
You want a reliable car with low maintenance costs
Advantages
Lower interest rate
Customizable car options
Considerations
Down Payment may be required
Car value depreciates quickly
Used Vehicle 
This is a good option if...
You are looking for something more affordable
You are willing to spend time looking at the history of the car
Advantages
Someone else has already paid the initial depreciation of the car
Insurance costs are typically less than a new car
Considerations
Down Payment may be required
Car value depreciates quickly
Leasing a Vehicle 
This is a good option if...
You don't typically drive a lot of miles
You prefer driving a new car every few years
Advantages
Maintenance covered under warranty 
Lower monthly payment
Considerations
You do not own the car
Difficult with poor credit
YOUR CURRENT CAR
It's important to understand the specifics of your current car including the year, make, model, series, options, miles, and overall condition. These factors will help you calculate the trade allowance for your car - which is the number a dealer uses toward the sale of your new car. Note that the actual cash value of your car can be determined by taking the average local price of your car minus 5%: this number equals your car's value. We recommend using resources like cars.com or autotrader.com to find the local price of your car. Then you can decide which option is best for your car:
sell it outright,
sell it to a used car company, or
trade it in.
Each option comes with its fair share of pros and cons that you will need to consider, as well.
PURCHASING OR REFINANCING WITH ELEMENTS
Before you buy the car, you should consider your financing. Understanding the lending process will ensure you're getting the best rate and payment options. It is also critical to understand how your credit score impacts the price of the car. As previously stated, if your score is low, it may benefit you to work with Elements to improve your score. Waiting 6-12 months while you work on improving your credit will have huge payoffs in the end!
Once you've found your vehicle and negotiated a price (or used a broker such as Members Auto Source to handle it for you), give the dealer an Elements business card of the person you've been working with, and we'll take care of the rest. After you are approved, we will give you the payment options so you can select the payment and term that's most comfortable for you.
Our goal is to make the financing process as easy and affordable as possible. Loan closings can be done online, so there is no need to drive downtown or go to a branch – an e-signature is all that's needed.
If your car is already financed, rates might have dropped since then and/or your credit score might have increased. Refinancing may be a good option for you. You can apply online and close same day and possibly save some money in the process.
Lastly, be sure to check out our Auto Loan Calculator to get rough estimates of what your payment might be based on a purchase price, down payment, interest rate you qualify for, and the length of the term you want.
Have questions or need trusted advice? Our credit union experts are always here for you.  Contact Elements Financial for support in all aspects of your financial life. 
Learn more about auto buying from a previously live broadcast of Elements Live. Click here to watch the seminar.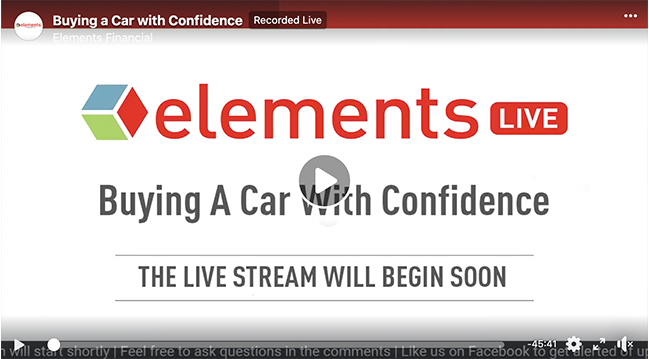 This information is provided for informational purposes only. It does not constitute legal, tax or financial advice. Consult with your tax, legal or financial adviser before taking any action.