Fraud is a broad term that refers to the act of deceiving someone for monetary gain. Over the years, fraudsters have developed a wide range of tools and techniques to fool us into giving them our money and information.
While you may have mastered the art of identifying a fraudulent phone call, there may be new ways that fraudsters are attempting to deceive us. To beat them at their own game, we are making every effort to raise awareness of scams and fraud that can put you, your family, and friends at risk. In this article, you will learn expert tips to identify if a situation is a scam. 
Essential Steps To Prevent Fraud
Don't Trust Caller ID Alone
Fraudsters can spoof phone numbers including the customer service lines for Elements, 1-800-621-2105 and 1-317-276-2105, to make it look like we're calling you. If you receive what feels like a questionable call with our caller ID, hang up and call us back directly. You can always call us 24/7.
Freeze Your Credit
A credit freeze keeps private data in your credit files from being accessed without your approval. Freezing your credit can help prevent fraudulent credit applications, even if a fraudster has information like your birthdate and Social Security number. You can easily unfreeze credit temporarily when you wish to apply for new credit. This is the most proactive defense against fraudsters. Here are useful links to freeze your credit with the major credit bureaus:
Control Your Debit & Credit Cards
Control your cards with Card Control. You can create custom real-time alerts for your card transactions and even restrict your card if it is lost or stolen. Download the Card Control app within our Elements mobile app by selecting Card Control from the app menu or by visiting the Apple or Google Play store directly if you already have the Elements mobile banking app. 
Watch Our Recent Broadcast
Learn more combating fraud from a previously live broadcast of Elements Live on Facebook. Click here to watch the seminar.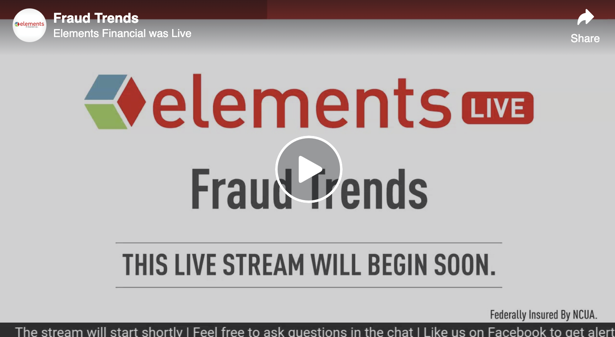 Common Types of Fraud
We have all heard stories of online marketplace scams, received strange credit card and insurance phone calls, and have been notified that someone is trying to login to our accounts from countries we have never visited. The more stories we hear, the better we become at identifying when we are being scammed. We're here to share the top 5 fraud scenarios that we hear about most often, along with our tips to approaching these situations. 
Online Marketplace
These scams often involve a criminal advertising high-ticket items for sale at low prices online.
Expert Tips:
When picking up the item in person, meet at a secure location, such as a police station.
Do not accept anything but cash or certified funds for in-person transactions.
Skimming
Criminals often embed skimming devices inside point of sale terminals to steal credit card information.
Expert Tips:
Pull on the card reader before swiping your card.
It is usually best to pay with a credit card, rather than debit, at the gas station.
Phone or Text Scams
Fraudsters may seek to steal your information or money on a call with a live person or through an automated texting system.
Expert Tips:
Confirm the call's legitimacy before giving out any information.
Never fall for a call from an unidentifiable third party about a family member "in crisis."
Look up and call the published customer service number back.
Never click on links or give personal information in response to a text alert.
Phishing Scams
This is an attempt to obtain sensitive information such as usernames, passwords, and credit card details via electronic communication.
Expert Tips:
Be cautious with links or attachments.
Go directly to websites that require sensitive login info, such as your email in-box or online banking, to avoid clicking links.
Tax Filing Fraud
This occurs when someone uses stolen information to file a tax return, claiming a fraudulent refund.
Expert Tips:
The earlier you file your taxes, the better.
Contact the IRS directly if you've had ID theft issues.
Developing Trends
Fraudsters are constantly developing new technology and strategies. Just as we begin to understand their old ways of doing things, they develop new trends to keep us on our toes. Elements is constantly researching these trends in the fraud world so that we can better support you. We don't want to keep our findings a secret, so we are here to share them with you! 
Employment Fraud
Fraudsters take advantage of people who are looking for a job. These criminals give you a check to start working and set up your home office. The checks turn out to be fraudulent, and then you are out the money you've spent.
Expert Tip: Be cautious of "too good to be true" job offers. 
Rogue Apps
These apps either silently install a different app than the preview in the store and trick the user into approving its installation, or the app will impersonate a retail brand or bank, convincing the consumer to give up login or payment information.
Expert Tip: Watch for this type of fraud, especially near Black Friday and Cyber Monday.
Identity Theft
This is the deliberate use of someone else's identity, usually as a method to gain a financial advantage or obtain credit.
Expert Tip: Always keep your credit frozen as the most proactive defense against fraudsters. 
Have questions or need trusted advice? Our credit union experts are always here for you.  Contact Elements Financial for support in all aspects of your financial life. 
This information is provided for informational purposes only. It does not constitute legal, tax or financial advice. Consult with your tax, legal or financial adviser before taking any action.