Have you been receiving a larger-than-usual number of spam texts and calls? You're not alone.
The Federal Trade Commission (FTC) reports that it received 334,833 complaints about scam texts last year, more than double the amount from the prior year. The trend is running rampant around the world, with people being exposed to about 125% more fraudulent messages every 3 months than before.1
Millions of fraudulent messages, sometimes referred to as "smishing texts," are hitting the phones of consumers and appearing to be from genuine sources, including banks and credit unions, delivery services and online retailers, utility companies, and even lottery offices. The sophisticated criminals behind these texts and calls can spoof numbers that may appear as a business you know – or simply have a local area code. Across the U.S., $86 million was reported lost in 2020 from scam texts.2
Overall, the fraudster's goal is to convince you to surrender personal information… whether it's account or Social Security numbers, digital banking passwords, credit or debit card numbers, or even data that might help them guess your security question answers. Additionally, these scammers might have a goal of convincing you to transfer money from your accounts to theirs. It's important to be aware of these refined scams and do your best to protect yourself and your identity.
So, how do fraudsters get my phone number anyway?
There are many methods, including:
Social Media: As you give permission to well-known social media platforms, they pass your information on to advertisers. This quickly widens the chance your number will be exposed through a data leak. Additionally, if your number is listed on public social media sites, there is a good chance it has been found and added to the databases of these fraudsters.
Online Submissions: There are a variety of reasons that consumers share their phone numbers, including entering contests, joining rewards programs, filling out forms or surveys, among others. Whenever you share your number in these formats, there is always a higher potential it will be found by those with ill-intentions.
Randomized Numbers: These criminals may use artificial intelligence to call random phone numbers, hoping some have real humans on the other side of the line.
Text Responses: If you've ever replied to a fraudulent text, even without meaning to, your number has likely been tagged as valid and sold to additional spammers. Replying to these messages increases the likelihood of receiving more spam calls and texts.
Data Leaks: As fraud becomes a more organized crime, these spammers will target companies to

 

gain access to their consumer data. When successful, your information, including your phone number, email, usernames, and more,

 

can be leaked and targeted with fraudulent communications.
What red flags should I watch for?
While all fraudsters take a unique approach, these items consistently appear as common themes:
Spelling & Grammar Errors: Fraudulent texts are often full of poor grammar, spelling errors, and awkward verbiage. When a real business sends you a message, it is typically free of mistakes and uses proper grammar and punctuation.
Mysterious Links: If a text message includes a suspicious link, this is a common sign that it is fraudulent. Refrain from clicking on the link or following any instructions listed in the message.
Unexpected Messages: Why would you receive a tracking link from a company if you didn't order anything? You reasonably know what companies you'll hear from based on your shopping history, so ignore other messages from businesses where you have no affiliation.
Asking for Codes: Your financial institution, or even a retailer, will not call you asking for data such as a one-time-passcode. Keep any PINs private, even those temporary ones that you receive via text to verify your identity, and report any that may ask you for it directly to the company they're claiming to be.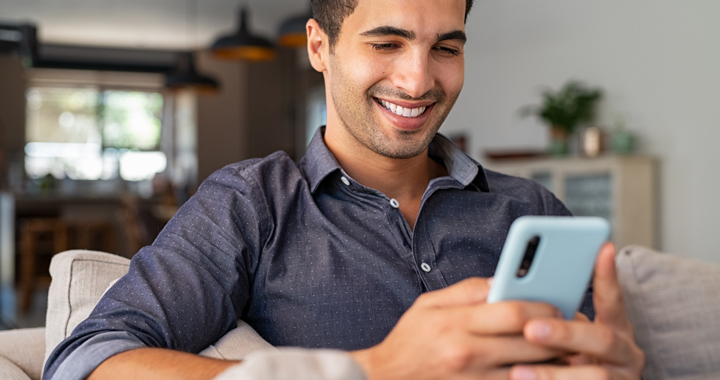 What can I do protect myself from this type of fraud?
While it's difficult to block these types of calls and texts because they come from various numbers, using these tips will help keep your identity more secure:
Be cautious about disclosing personal information. Legitimate agencies, including banks, government bureaus, and businesses will not ask for your personal or financial data through unsolicited texts or phone calls. Being careful about how and where you disclose this information online is a critical first step to protecting your identity. Be especially cautious of any text or call asking you to "verify" or "update" your account details or credentials.
Visit websites or call companies directly. When you're unsure if a communication is legitimate, such as a text or phone call, it's best to ignore it and contact that company directly. Additionally, do not trust caller ID as fraudsters can spoof phone numbers and trick consumers into believing their calls are authentic.
Never reply to suspicious messages. When you reply to a fraudulent message, it confirms to the spammers that you're a real person, and that could place you on their lists as a future target. Oftentimes, fraudsters attempt to trick you into replying by sending messages asking you to reply "STOP" to be removed from receiving future messages. Don't let these criminals fool you into replying, which can lead to more spam calls and texts in the future.
What happens if I click the link in a spam text?
Well, it's best not to do so. But if it happens, here's what might occur next:
Clicking on the link will likely take you to a fake website, designed with the sole intent of capturing your financial or personal data. In many cases, this website will infect your phone with malware with the purpose of spying on your cell phone activity. If that's not enough, this malware will slow down your phone by taking up memory space.
If you realize you've mistakenly shared data with a fraudster, follow these steps:
Reach out to your credit union or bank for guidance in securing your financial accounts.
Change usernames and passwords to those accounts, using a different device than the one that may be infected.
Report this fraud to your phone carriers, as they might be able to take action if multiple consumers are experiencing the same issue.
Involve local law enforcement if you experience any financial loss.
---
Elements Financial is here to support you with advice and education to protect yourself and your assets. Reach out to us with questions, concerns, or to report suspicious activity. Additionally, use these resources from your credit union:
Card Control
Elements provides members with Card Control – an app for iOS and Android devices that allows you to keep tabs on your credit and debit cards, turn them on or off with the tap of a button, receive notifications when they are used, and set spending limits.
SavvyMoney
This resource allows you to see an up-to-date version of your credit score for free within Online and Mobile Banking. Plus, you'll receive a letter grade rating of how well you are performing in each of the five credit focus areas. This is the perfect tool to monitor your score and ensure fraudsters are not opening unauthorized accounts under your identity.
Fraud Advice
Our Advice section, including articles and quick videos, dives into additional fraud-related topics including romance scams, identity theft, employment fraud, and more. Explore these resources to gain further knowledge to feel empowered to avoid fraud.